HYNC
September 4, 2020 News Summary
US Politics and Economics
As days until the final election in November come to only two months, states struggle to recruit enough poll workers. In 2018 for the midterm elections alone, over 600,000 people were poll workers, but in 2020, over ⅔ of US counties report difficulties finding enough recruits, due to the immense challenge of maintaining public health and safety.
Per CNN, incumbent President and 2020 Republican candidate Donald Trump mocked Democratic candidate Joe Biden for wearing a face mask on Thursday. Trump asked a crowd of his supporters if they "know a man that likes a mask as much as Biden," and presumes that face masks give Biden a sense of security. However, the President's comments contrast with the guidelines from public health officials, who, early in April, advised Americans to wear face coverings to prevent the spread of COVID-19. Regardless, Trump ridicules Biden both in Twitter and in person about how the latter wears a face covering. Biden rebuttals by calling his opponent "an absolute fool," expressing that Trump is costing people's lives.
Texas Politics
The electric vehicle demand is growing in Texas. As reported by the Houston Chronicle, "In a symbolic sign of the global energy shift, Tesla's market value recently surpassed that of the Texas oil major Exxon Mobil, the world's most valuable company just seven years ago. The California automaker is worth $388.7 billion… more than two times Exxon's market value of $167.8 billion." Gov. Greg Abbott of Texas announces, "Tesla is one of the most exciting and innovative companies in the world, and we are proud to welcome its team to the State of Texas." Tesla has expanded to be a large part of the electric industry, accounting for 2.6 percent of total sales last year. This possible shift may gradually decrease the demand for gas and fuel products.
Health
According to CDC's COVID Data Tracker, as of September 4, 2020, 12:16 PM, there are over 6.13 million cases and 186k deaths in the US. In Texas alone, there are 625k cases.
CNN writes of a study about Russia's COVID-19 vaccine, Sputnik V. Despite receiving criticism after, in spite of successes in Phase 1 and 2 studies of the vaccine, all 76 volunteers developed neutralizing antibodies towards the virus-- similar to those who have recovered after being infected. However, half of the volunteers developed fevers, 42 percent developed headaches, 28 percent experienced weakness, and 24 percent had joint pain. The vaccine has yet to pass through Phase 3 trials, which confirms that it's safe enough to use.
World Politics and Economics
Italian Prime Minister Silvio Berlusconi is hospitalized for COVID-19, officials tell CNN. The press office additionally writes, "Berlusconi, after the appearance of some symptoms, was admitted to the San Raffaele hospital in Milan as a precaution. The clinical picture does not cause concern". On Monday earlier this week, Italy, as a whole, reported 996 new cases and 6 deaths.
Following the poisoning of the leader of the Russian opposition, politician Alexei Navalny, BBC reports that the North Atlantic Treaty Organization (NATO) has called for Russia to reveal the Novichok nerve agent project, a binary chemical weapon, to international monitors. Despite Russia's denial of the diagnosis given by Navalny's doctors, Secretary-General Jens Stoltenberg of NATO proclaims that with "proof beyond doubt," the victim's poison is a nerve agent. Stoltenberg asserts that the Kremlin "must fully cooperate with the Organisation for the Prohibition of Chemical Weapons on an impartial international investigation, and he also calls "on Russia to provide complete disclosure of the Novichok programme to the OPCW." However, several high-ranking Russian officials have already dismissed NATO's requests. Konstantin Kosachev of Russia's Federation Council counters, "Until experts have either confirmed or denied the use of chemical substances subject to the Chemical Weapons Convention, calls for involving the OPCW appear, in my view, politicised." Nonetheless, Stoltenberg stresses, "We strongly believe that this is a blatant violation of international law [banning the use of any chemical weapons], so it requires an international response, but I will not now speculate about exactly what kind of international response." Furthermore, Britain alleges that Russian military intelligence executed the attack as part of a coordinated effort, influencing 20 other countries to oust over 100 Russian diplomats and spies.
After last month's deadly explosion in Beirut, hopes of finding a survivor beneath the rubble are fading after two days of searching. Earlier on both Wednesday and Thursday, a rescue dog gave a sign that there may have been a live person buried. However, when special sensor equipment arrived to detect a pulsing signal, no survivors were found.
Science and Technology
Per CNET, the live-action movie Mulan, which was released today, marks a new age of blockbusters, a term used to describe feature media that is highly popular and financially successful, watched at home. Olivia Muscat, a blind writer and art critic, and her three friends are excited to watch the new movie Mulan but is not overjoyed with the mandatory 30 dollar fee for it on Disney Plus. Nevertheless, with the COVID-19 pandemic means, for Muscat at least, easier access to an alternative track, an audio description to movies that "narrates visual action happening on screen in between dialogue."
CNN Business reports that as Amazon receives a certificate from the Federal Aviation Administration, it is even closer to becoming an international conglomerate closer with drone delivery. The article details, "Amazon (AMZN) now has what's called a Part 135 air carrier certificate, which must be held before a company begins drone deliveries." CEO Jeff Bezos announced the program in December of 2013, Amazon made its first delivery three years later in Britain, and, now, the company is trying to reduce delivery time to just 30 minutes.
Southeast US Weather
(The Atlantic) Ocean activity is firing up as we approach peak season next week with multiple disturbances currently. One with an 80 percent chance of forming in the next 5 days and the other at 30 percent. The National Hurricane Center (NHC) additionally expects another wave with a 60 percent chance to come off of Africa's coast soon. Moreover, tropical storm Omar is still alive up in the north Atlantic, but the National Hurricane Center (NHC) expects it to dissipate tomorrow.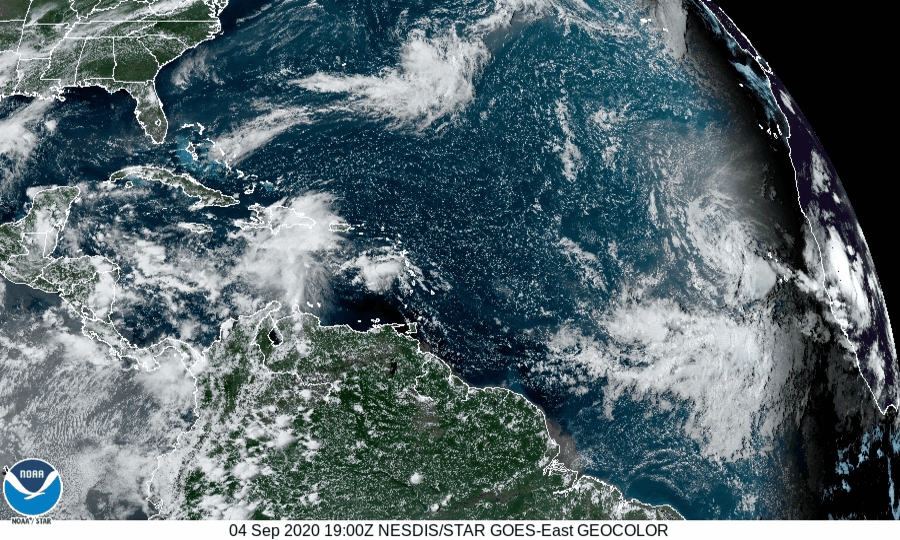 (The Pacific) The remnants of tropical storm Nana has a solid 60 percent chance of reforming into a cyclone while moving west-northwestward and slowly gathering up speed.
(Bonus: The Philippine Sea) As the Visible Infrared Imaging Radiometer Suite (VIIRS) aboard NASA's National Oceanic and Atmospheric Administration's (NOAA) Suomi NPP satellite passes over the Philippine Sea, it gives a clear image of Haishen, which has strengthened into a super typhoon. The Joint Typhoon Warning Center in Hawaii warns "that Super Typhoon Haishen had maximum sustained winds near 135 knots (155 mph/250 kph). It is currently a Category 4 hurricane/typhoon. It was centered near latitude 22.2 degrees north and longitude 134.3 degrees east, about 439 nautical miles southeast of Kadena Air Base, Okinawa Island, Japan. The storm was moving to the northwest."
(Local: Houston, Texas) The high of the day is 95 degrees Fahrenheit and a low of 78 degrees Fahrenheit. Chances of rain will increase by .5 inches as a storm passes south of Dallas, and during Saturday morning and Sunday night, it may drizzle.
Are you aware... that Hurricane Harvey is the rainiest, or wettest, tropical cyclone in US history?
Quick Query (Multiple Levels):
Easy: A hurricane can form near the waters of Alaska. True or False?
Medium: A Category 5 has winds up to...?
125 mph

75 mph

35 mph

160 mph
Hard: When was the last time a hurricane DIRECTLY made landfall in Houston?
To get live coverage of the latest hurricane updates on the tropics, visit the National Hurricane Center, Tropical Tidbits, CyclonicWx, or watch Force Thirteen. Please stay safe, and for more on local weather, visit the NOAA Graphical Forecast.
Writers:
US Politics and Economics: Dylan
Texas Politics: Stephanie, Vicki, and Megan
Health: Matthew, David, and Owen
World Politics and Economics: William, Jake, and Alexander
Science and Technology: Yiqi, Amelia, and Joe
Southeast US Weather: Jade, Aiden, Byran, and Simon
Editor: VIA, Isabel, and Mingyi
(All writers and editors are in middle to high school)
HYNC-September-4-2020
.pdf
Download PDF • 1.28MB